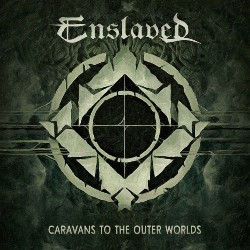 Enslaved – Caravans Of The Outer Worlds (EP) – Review
Mit ihrer EP "Caravans To The Outer Worlds" liefert die norwegische Progressive-Metal-Band ENSLAVED eine Verlängerung zu ihrem vorherigen Album "Utgard". Was nach einem schwammigen Argument klingt, ist am Ende aber nichts anderes, als ein kompletter Volltreffer, von einer Band, die so ausgereift und organisch perfekt geschliffen ist, dass einfach keine Schnitzer mehr passieren. Schon im einleitenden Titelsong packen uns ENSLAVED im Galopp ein und wir sind wieder mitten im Abenteuer.
Imaginäres Abenteuer
Grundsätzlich ist "Caravans To The Other Worlds" von ENSLAVED ein angsteinflößende Angelegenheit, fein akzentuierte Schauer und mächtige Gitarrenwände, die große Schlachten vor dem inneren Auge entstehen lassen. Wer alleine schon mit Grutle Kjellson und Håkon Vinje so eine stimmliche Vielfalt an Bord hat, sollte das auch nutzen. Und schon alleine damit heben sich ENSLAVED immer sofort von anderen Bands ab.

Unterhaltsame Nebenquest
Die beiden instrumentalen Intermezzo sind mit Naturgeräuschen unterlegt, verstärken die Aufmerksamkeit und breiten sich vollends aus. "Intermezzo II – The Navigator" erinnert an die instrumentalen Ausflüge von GHOST, verläuft sich in einem herrlichen Achtzigerjahreflair. ENSLAVED füllen mit dieser EP tatsächlich Lücken auf, die man so gar nicht wahrgenommen hat. Versteht man "Caravans To The Outer Worlds" als genau das, was es bedeutet, dann ist diese Nebenquest unterhaltsam inszeniert und erfolgreich zu Ende gebracht. Wenn überhaupt, dann könnte man sich daran stören, dass ENSLAVED hier zu soundtrackig auftreten und man die EP nur komplett hören sollte.
Dauer: 18:13
Label: Nuclear Blast / Rough Trade
VÖ: 01.10.2021
Tracklist "Caravans To The Outer Worlds" von ENSLAVED
Caravans to the Outer Worlds
Intermezzo I – Lonnlig. Gudlig.
Ruun II – The Epitaph
Intermezzo II – The Navigator
Alben, die Dir gefallen könnten:
Podcast Folge 65 mit Volk-Man von DIE APOKALYPTISCHEN REITER über "Wilde Kinder"
CARCASS – Torn Arteries
WITCHERY – Nightside
HORIZON IGNITED – Towards The Dying Lands
Podcast Folge 56 mit Fabi von DESERTED FEAR über "Doomsday"
DARK FUNERAL – We Are The Apokalypse
Until The Light Takes Us – Review zum Film
DESERTED FEAR – Doomsday
Podcast Folge 53 mit ZEAL & ARDOR zum Album "s/t"
ZEAL & ARDOR – Zeal & Ardor
WIEGEDOOD – There's Always Blood At The End Of The Road 
BEHEMOTH – In Absentia Dei (Live)
VADER kündigen Tour für 2022 an
NORTHTALE – Eternal Flame
CRADLE OF FILTH – Existence Is Futile
WALDGEFLÜSTER – Dahoam
65DAYS OF STATIC – replicr, 2019
FLESIA – Trost
SLEEP TOKEN – Sundowning
GÖSTA BERLINGS SAGA – Konkret Musik
PAIN OF SALVATION – Panther
LONG DISTANCE CALLING – How Do We Want To Live
LONG DISTANCE CALLING – Stummfilm (Live from Hamburg)
HAKEN – Virus
THE HIRSCH EFFEKT – Kollaps
LEPROUS – Pitfalls
TRIPTYKON – Requiem (Live at Roadburn 2019) featuring Metropole Orkest
PARADISE LOST – Obsidian
ALCEST – Spiritual Instinct
BATUSHKA – Hospodi
BEHEMOTH – In Absentia Dei
BORKNAGAR – True North
SWEEPING DEATH – Tristesse (EP)
WINTERFYLLETH – The Reckoning Dawn
DEMONS & WIZARDS – III
OCEANS – The Sun And The Cold
EQUILIBRIUM – Renegades
WINTERFYLLETH – The Reckoning Dawn
LEPROUS – Interactive Livestream im Cederberg Studio vom 09.10.2020
Interview mit Erlend Hjelvik von HJELVIK zum Album "Welcome To Hel"
DEAFHEAVEN – 10 Years Gone
BLIND GUARDIAN – Imaginations From The Other Side (25th Anniversary Edition)
TRIBULATION – Where The Gloom Becomes Sound
AMORPHIS kündigen "Live At Helsinki Ice Hall" an
ÅRABROT – This World Must Be Destroyed
OCEANS – We Are Nøt Okay (EP)
MAYHEM – Atavistic Black Disorder / Kommando (EP) 
NECRONAUTICAL – Slain In The Spirit
WOLVES IN THE THRONE ROOM – Primordial Arcana