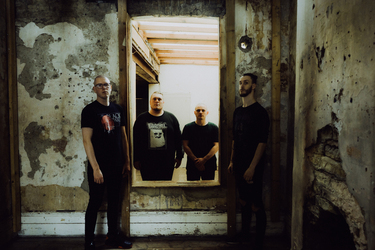 Interview with Conor Marshall from Conjurer about "Páthos"
Conor Marshall plays bass in CONJURER (and also SYLOSIS) and so he is a part of UKs most interesting rock bands at the moment. They just relased their second album, called "Páthos" that perfectly holds the balance between heavyness and dark emotions. We had the chance for a chat about what moves him, what is the motivation for this kind of music, how he enjoys music, about lyrics and the visual aspects of CONJURERs music.
Your album is named "Páthos", which is a description for being deeply moved by something. So what moves you deeply and passionately?
Conor: I think it's different for all of us but music definitely, I know Dan and Brady are really into film and so there's probably something there for them. We used "Páthos" for the album though because it was the thread between all of the songs and the emotions in them, and all of the songs relate to the human condition and being empathetic towards that. So it sounds very artsy and pretentious but i'd say we're moved by the human experience, enough to write lyrics about it anyway.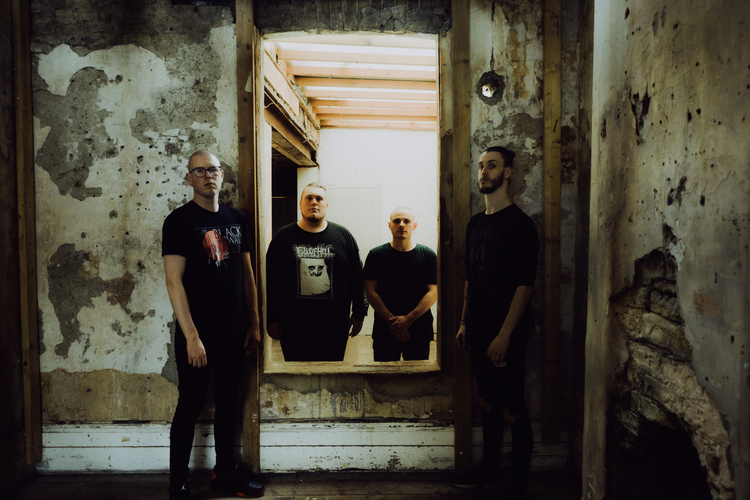 Your music is driven by anger but also by a gentle handling of the music, does one condition the other?
Conor: Yes and no, I think a lot of it just happens naturally. We obviously write very dark and sometimes aggressive music for the most part, but have always been interested in the softer side as well and how these two work together. We want to write songs that are dynamic and have contrast and so a lot of work goes into making those two aspects fit.
The music of CONJURER is very physical, to listen to and surely to play. I'm pretty sure that you need a special state to play this music as intensively as necessary. Does it give or subtract more energies from you?
Conor: Not really, I could definitely put more effort into going to the gym to try and be in better shape but I don't think it's entirely necessary. We are very physical when we perform but that's just because that's what we want to do naturally, not because we've trained or decided to do it that way, and so you may get shows where if someone's tired they may not give as much energy as they did the show before but that's okay.
That's what makes it real, it's not a choreographed performance that we have to go out an nail each step of every night, it's very much just performing the songs we've written together, and so that will look different at every single show and use a different amount of energy too.
Most of the songs on "Páthos" are comparatively long, no snackable songs to put them in an entertaining playlist, except for "Suffer Alone". How do you enjoy music, do you listen to the entire album in one go attentively?
Conor: I definitely prefer to listen to albums if I can, often I might find that my drive to work or something for example isn't long enough for a full album so I'll end up listening to the first half of albums a lot. But overall I'd much rather listen to an album than a load of singles.
Apart from making music, what do the members of CONJURER share with each other?
Conor: Not a lot to be honest! We have things that a couple of us will share an interest in, for example like I was saying before how Dan and Brady both like film. Brady and I are both into football, I think all of us play video games a little bit but there's very little crossover in terms of what games we play. So yeah, outside of music we don't share a huge amount, but that's also what makes the music interesting when we do come together.
Where do you get your lyrical inspirations from?
Conor: The lyrics kind of come from everywhere in terms of the topics that spark the initial idea for lyrics, but then everything kind of boils down to the human experience and how these topics affect us or people in general.
Who is responsible for the artwork and what is the meaning behind it?
Conor: The artwork was done by an artist called Jean-Luc Almond who did an amazing job! In terms of meaning it's very much meant to represent the feeling on the album, it's dark and moody, the figure in the painting is slumped over with their head on their hand, but then there's still this burst of colour and all this emotion. The same way that the songs are very heavy and dark but there's still emotion and feeling to them and in the lyrics.
How important are visual aspects for CONJURERs music?
Conor: Not massively, it depends which particular aspects you're talking about. For example we put a lot of focus on the artwork for this album and all the packaging and the layout etc. and we made sure the music videos for the songs were much better this time around too. But we've never been very good at photo shoots and the bands image or any of those visual aspects. We're a very "music first" band and anything visual that we do is always to support and benefit the music we've made.
Artikel, die Dich interessieren könnten:
CABAL – Magno Interitus
IMPLORE – The Burden Of Existence
BRUTUS veröffentlichen neuen Song "Liar"
GHOST BATH – Self Loather
BELPHEGOR – The Devils 
VOMIT FORTH – Seething Malevolence
KRISIUN – Mortem Solis
COHEED AND CAMBRIA – Vaxis II: A Window Of The Waking Mind 
GOJIRA – Fortitude
HIPPOTRAKTOR – Meridian
Until The Light Takes Us – Review zum Film
OAR – The Blood You Crave
TUNIC – Exhaling
PART CHIMP – Drool
Interview mit Dave von ABRAHAM zum Album "Débris de mondes perdus"
DITZ – The Great Regression
SYLOSIS – Cycle Of Suffering
SPOIL ENGINE – Renaissance Noir
VILDHJARTA – Måsstaden Under Vatten
Interview with Jeff from HIROE about the album "Wrought"
PLAYGROUNDED – The Death Of Death
LLNN – Unmaker