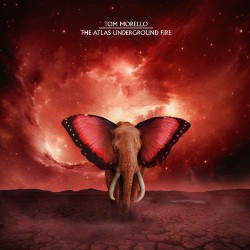 Tom Morello veröffentlicht "Let's Get The Party Started" feat. Bring Me The Horizon
TOM MORELLO knüpft mit "The Atlas Underground Fire" an sein erstes Album The Atlas Underground" aus dem Jahr 2018 an. Die Liste der Feature liest sich mit Bruce Springsteen, Eddie Vedder, Chris Stapleton, Mike Posner, Damian Marley und vielen mehr äußert gut und vielseitig. Obendrauf gibt es noch das prägnante Gitarrenspiel von Morello selbst, transferiert auf den aktuellen Zeitgeist. Sich dazu auch BRING ME THE HORIZON an die Seite zu stellen, ist der logische Schritt, denn kaum eine andere Band setzt aktuell so vehemente Maßstäbe dafür, wie Rock oder Metal in der Zukunft funktionieren könnte.
So happy, I could die right now
Ebenso wie die aktuelle Single "Die4u" von BRING ME THE HORIZON, entstand auch die gemeinsam Single "Let's Get The Party Started" Länderübergeifend. "Oli war in Brasilien, Jordan war in England und ich war hier in L.A. Es war eine echte United Nations of Metal, die zusammenkam, um diesen Song zu produzieren, der für mich wirklich die Angst und die Frustration der Pandemie einfängt. Der Song enthält auch eines meiner liebsten Gitarrensoli, die ich seit langem gespielt habe", so Morello.
Tracklist von "The Atlas Underground Fire" von TOM MORELLO
Harlem Hellfighter
Highway to Hell (featuring Bruce Springsteen and Eddie Vedder)
Let's Get The Party Started (featuring Bring Me The Horizon)
Driving to Texas (featuring Phantogram)
The War Inside (featuring Chris Stapleton)
Hold The Line (featuring grandson)
Naraka (featuring Mike Posner)
The Achilles List (featuring Damian Marley)
Night Witch (featuring phem)
Charmed I'm Sure (featuring Protohype)
Save Our Souls (featuring Dennis Lyxzén of Refused)
On The Shore Of Eternity (featuring Sama' Abdulhadi)
Artikel, die Dir gefallen könnten:
SIGHTS AND SOUNDS – No Virtue
BRING ME THE HORIZON – Sempiternal
TOM MORELLO – The Atlas Underground Fire
BRING ME THE HORIZON – POST HUMAN: SURVIVAL HORROR
IDLES – Ultra Mono
DEFTONES – Ohms
ESKIMO CALLBOY – Rehab
BLACK FUTURES – Never, Not, Nothing
SELFISH THINGS – Logos
THE OKLAHOMA KID – SOLARRAY
GHØSTKID veröffentlichen ersten Song "Start A Fight"
ESKIMO CALLBOY – MMXX
PLAGUE VENDOR – By Night
ROYAL REPUBLIC – Club Majesty
NORTHLANE – Alien
AUGUST BURNS RED – Guardians
NORMA JEAN – All Hail
PARKWAY DRIVE – Viva The Underdogs
COUNTERPARTS – Nothing Left To Love
TOM MORELLO bei Instagram