The World Is A Beautiful Place & I Am No Longer Afraid To Die veröffentlichen "Queen Sophie For President"
THE WORLD IS A BEAUTIFUL PLACE & I AM NO LONGER AFRAID TO DIE , die amerikanische Emo-Band mit dem griffigen Namen, veröffentlicht ein Video zu dem Song "Queen Sophie For President" von ihrem kommenden Album "Illusory Walls", das am 08. Oktober 2021 digital und am 03.12. physisch über Epitaph Records erscheint. Aufgenommen wurde Album Nummer Vier während der Pandemie in den von Bären bevölkerten Wäldern von Connecticut und auf den Straßen von Philadelphias.
Nach einem Unfall war gar nicht klar, ob Sängerin Katie Dvorak wieder singen bzw. sprechen kann. Kann sie aber, umso besser und noch dazu wurden die Umstände und die Verarbeitung ihrer Probleme Inhalte der Songs. Produziert wurde das Album von Sänger und Gitarrist Chris Teti zusammen mit seinem Studiopartner Greg Thomas (END, MISERY SiGNALS).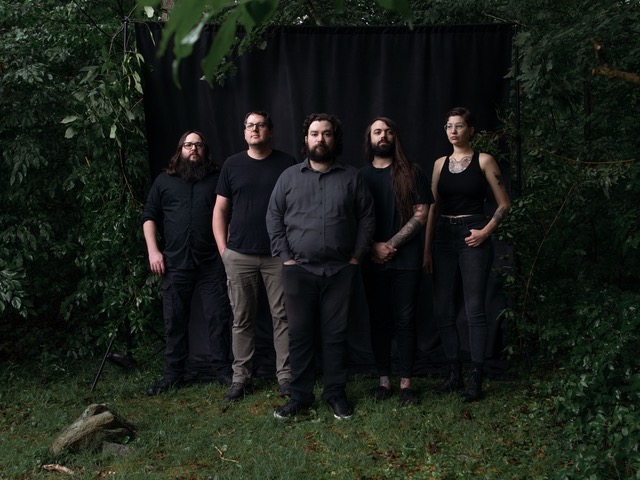 Tracklist "Illusory Walls" von THE WORLD IS A BEAUTIFUL PLACE & I AM NO LONGER AFRAID TO DIE
Afraid to Die
Queen Sophie for President
Invading the World of the Guilty as a Spirit of Vengeance
We SawBirds through the Hole in the Ceiling
Died in the Prison of the Holy Office
Your Brain is a Rubbermaid
Blank // Worker
Trouble
Infinite Josh
Fewer Afraid
Alben, die Dir gefallen könnten:
SUMMER & THE GIANTESS – s/t
BLAUDZUN veröffentlichen Song "Closer"
SLOTHRUST – Parallel Timeline
BSÍ kündigen Tourdaten an und veröffentlichen Video zu "My Knee Against Kyriarchy"
THE PICTUREBOOKS – The Major Minor Collective
GRAND MAGUS – Wolf God
BLUES PILLS – Holy Moly!
VIOLENT SOHO – Everything Is A-Ok
BOMBUS – Vulture Culture
Interview mit Sänger Feffe von BOMBUS zum Album "Vulture Culture"
KOLOSSUS DÄÄCHT – Lipstick Love
NAKED SIX – Lost Art Of Conversation
THE ARTAKEES – Rush
OZZY OSBOURNE – Ordinary Man
KIRK WINDSTEIN – Dream In Motion
BLACK VULPINE – Veil Nebula
Interview mit Markus und Sebastian von COLD zum Album "s/t"
HANK VON HELL – Dead
RIPE AND RUIN – Everything For Nothing
SCUMBAG MILLIONAIRE – Poor And Infamous
KADAVAR – The Isolation Tapes
THE NEW MADNESS – After Hours
JACK DALTON & THE CACTUS BOYS veröffentlichen Video zu "¡Ten Cuidado!"
POWER PLUSH – Vomiting Emotions (EP)
COLLEEN GREEN – Cool
THE WORLD IS A BEAUTIFUL PLACE & I AM NO LONGER AFRAID TO DIE bei Facebook